At one point, it certainly felt like Sunday's game against the New England Patriots was teetering on the brink of another collapse. Las Vegas Raiders fans have become all too familiar with this feeling this season. In the end, however, Josh McDaniels' squad pulled it off. With that being said, are the playoffs still a possibility?
Heading into Week 15, the Raiders' hopes at making the postseason hung in the balance. Looking back, had the team taken care of business against the Los Angeles Rams on Thursday Night Football, they would've been in great shape. However, as Raiders can attest to, this team always has to do things the hard way. With that being said, we checked the latest odds on the Silver and Black reaching the playoffs in January.
According to the popular New York Times' simulator, the Raiders currently have a 59% chance of making the playoffs. The caveat is that they must continue to win out.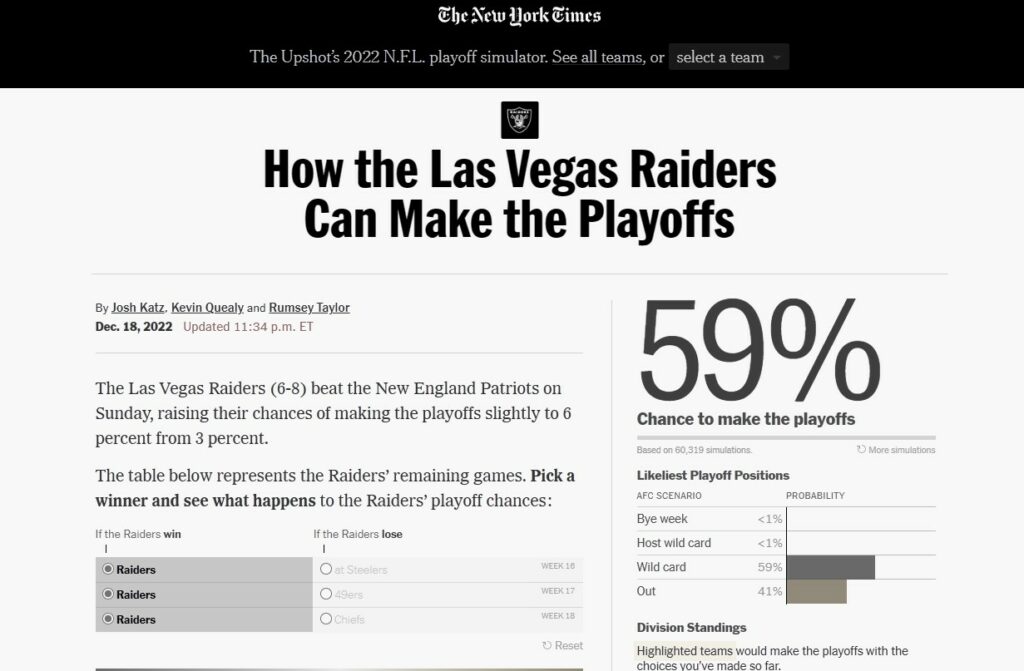 Are the Las Vegas Raiders going to make it?
Up until the last-minute touchdown drive led by Derek Carr, Raiders fans were surely feeling uneasy. Once Keelan Cole's catch was ruled to have been correctly called on the field, the defense then took matters into its own hands. The Patriots inexplicably decided to go for the win with some foolish trickery that backfired. It was at that point that Chandler Jones robbed the Patriots of their glory, stiff-arming Patriots quarterback Mac Jones into oblivion in the process.
Up next, the Raiders will face the Pittsburgh Steelers. This Mike Tomlin-led squad is on a mission. The Steelers have never had a losing season under Tomlin, and in order to keep that streak going, they need to beat the Raiders. However, this upcoming two-game stretch will pit Patrick Graham's defense against a couple of rookie signal-callers. At this point, the Raiders will take any advantage they can get; it's up to them to exploit it.
*Top Photo: Ethan Miller/Getty Images
Join The Ramble Email List