Today, Las Vegas Raiders quarterback Derek Carr shared his formal goodbye with Raider Nation via Instagram and Twitter.
☠️ pic.twitter.com/fuSOAWkwk8

— Derek Carr (@derekcarrqb) January 12, 2023
It was a heartfelt message from the Silver and Black's nine-year starter after the 2022 season didn't go as planned. While few can deny his passion and love for the organization, the NFL is a business—a results-based one at that. New regimes' windows to rectify franchises' misfortunes are smaller now than ever. With that being said, Carr should have known that this would be the potential endgame before the season even began.
Derek Carr's Contract Extension Created False Hope
Last offseason, Raiders general manager Dave Ziegler handed out contract extensions left and right. After Darren Waller, Hunter Renfrow, and Maxx Crosby, many wondered whether or not the veteran signal-caller would join his teammates.
While the Raiders signed Derek Carr to a 3-year, $121.5M extension this past offseason, the team would incur a dead cap hit of $5.625M if cut/traded this offseason. As far as QB deals go, that's a minuscule amount.

Will be an interesting offseason for Las Vegas at QB.

— Field Yates (@FieldYates) December 28, 2022
Derek Carr joined them, but unlike his counterparts, the deal had attractive fine print for the team. As you can see above, the Raiders made the contract essentially a one-year deal for 2023.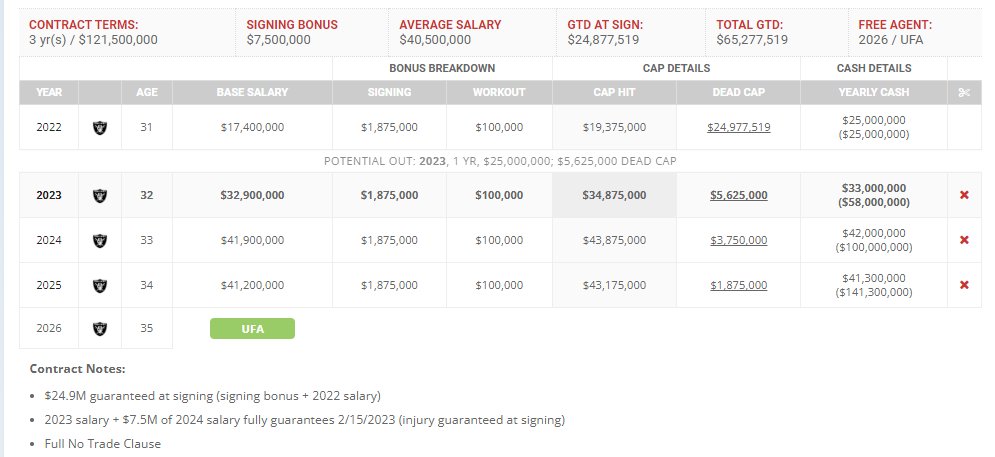 With Derek's 2024 salary becoming fully guaranteed in over a month, Raiders' brass decided to pull the plug just a few weeks ago. Why? Because paying a $42 million base salary would be more than what Green Bay Packers Aaron Rodgers and Buffalo Bills Josh Allen would be making. Additionally, it would only be $1 million less than Kansas City Chiefs Patrick Mahomes would earn. Derek Carr's output does not match the price tag, and his teammates potentially agree.
Shade from Josh Jacobs?
Shortly after Carr's announcement, teammate Josh Jacobs made a subtle yet bold statement via his Instagram account.
Uh Oh 👀 pic.twitter.com/E29Ik2wE29

— CJ Errickson (@CJE_NFL) January 12, 2023
Is that a shot at the Raiders' nine-year starter? Considering the timing of the post and this era of social media – anything is possible. With Josh Jacobs' evident frustrations after the Week 16 loss to the Pittsburgh Steelers, it is not out of the question that this has something to do with his and Derek Carr's relationship. In conclusion, Silver and Black will be in the market for a new quarterback. Additionally, this split seems in the best interest of all parties involved.
The Raiders Need Josh McDaniels & Dave Ziegler To Remain Audacious Duo In 2023
*Top Photo by Getty Images
Join The Ramble Email List