As the Las Vegas Raiders look to address their outside corner woes, the team cannot overlook the struggles at the slot position. With Lamarcus Joyner struggling to hold his ground in 2019, there is one free agent that could allow him to return to his natural safety position.
Slot Defenders are Key in Today's NFL
Last year, the Raiders secondary faltered as a whole. Many focus on the outside cornerbacks, but slot wide receivers are nowadays becoming more predominant in offensive game plans. Wide receivers Marquise Brown and Mecole Hardman, of the Ravens and Chiefs respectively, accounted for six touchdowns each from the slot.
Hit Mecole Hardman in stride for a 42-yard TD?

Mahomes is BALLIN.

(via @NFL)pic.twitter.com/8zfv8RcTXE

— Bleacher Report (@BleacherReport) September 15, 2019
With numerous crafty and talented receivers in the slot, the demand for defenders that can match up against them rises. Meanwhile, the Raiders' primary slot defender in 2019 had a hard time fulfilling his role.
Related: Could corner Trae Waynes help the Raiders defensive backfield?
The Misuse of Lamarcus Joyner
The third most expensive free agent signing in 2019 was defensive back Lamarcus Joyner. The former Rams player inked a $42 million contract ($17 million guaranteed) with the Raiders for four years. In 14 games last season, Joyner struggled mightily at the slot. When targeted (fourth most passes thrown to a slot), he was the fourth worst inside cornerback in terms of receptions and yardage allowed. Despite his struggles, the team had no other option but to give him the sixth most snaps at the position in the league due to their lack of depth. The Florida State product only saw 20 snaps in slot coverage with the Rams in 2018, compared to 377 the following year. That sharp volume spike ultimately did not end well for the team nor Joyner. However, he was one of Los Angeles top defenders in pass coverage for the Rams a couple years ago when he was used as safety.
Lamarcus Joyner picks off the DEEP pass from Deshaun Watson! #HOUvsLAR https://t.co/bpYzDlKCBe

— NFL (@NFL) August 25, 2018
Moving forward, it would be in the Silver and Black's best interest to find a player that is comfortable and possesses experience as a slot defender.
Brian Poole – Free Agent Cornerback
Jets cornerback Brian Poole is set to become an unrestricted free agent. If you're wondering why that name sounds familiar, he was a vital cog in the demolishment of the Raiders at the Meadowlands during the 2019 season.
Brian Poole's one-handed pick 6 is poetry in motion 😱 @poolioo pic.twitter.com/FEODcDTMvm

— The Checkdown (@thecheckdown) November 24, 2019
Poole made a play that cemented any remote thought of a comeback that day. It was his only interception of the year, but his abilities as a defender go further than just the above play. Out of cornerbacks that played 14 games or more in 2019, he allowed the fourth lowest opposing quarterback passer rating playing in the slot. Considering that he played the fourth most snaps of all defenders at the position, that is a remarkable feat. The former Gators corner has amassed 1,683 snaps at the slot throughout his four-year NFL career and Pro Football focus took note of his abilities after the first 13 weeks of the NFL last season.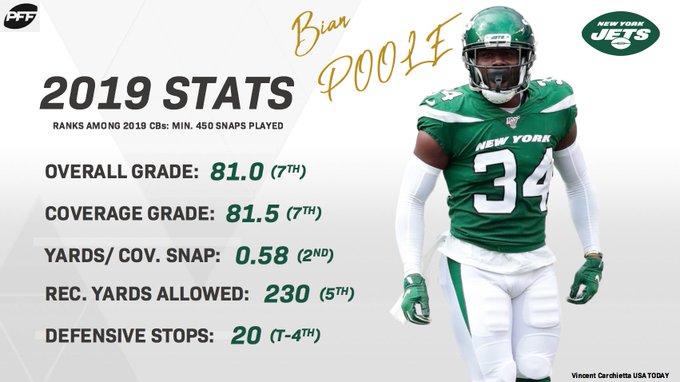 For Las Vegas, acquiring him would ultimately benefit the entire defense by adding talent while relieving Joyner of his lamented slot duties.
Utilization is Key
Heading into 2020, the Raiders need to place their players in the most effective positions to succeed. From a defensive standpoint, players such as Clelin Ferrell have no business seeing a high volume of snaps at the defensive tackle position. It is only stunting his growth and is a detriment to his progression as an edge defender. Joyner was given a lofty contract because he had proven he can play safety at a respectable level. With that being said, his skills are being wasted as a slot cornerback.
The Silver and Black front office would be wise to bring in an experienced and proven player like Brian Poole. That would allow Joyner to thrive at his natural position.
You may also like: FA Christian Kersey to the Raiders?
Join The Ramble Email List