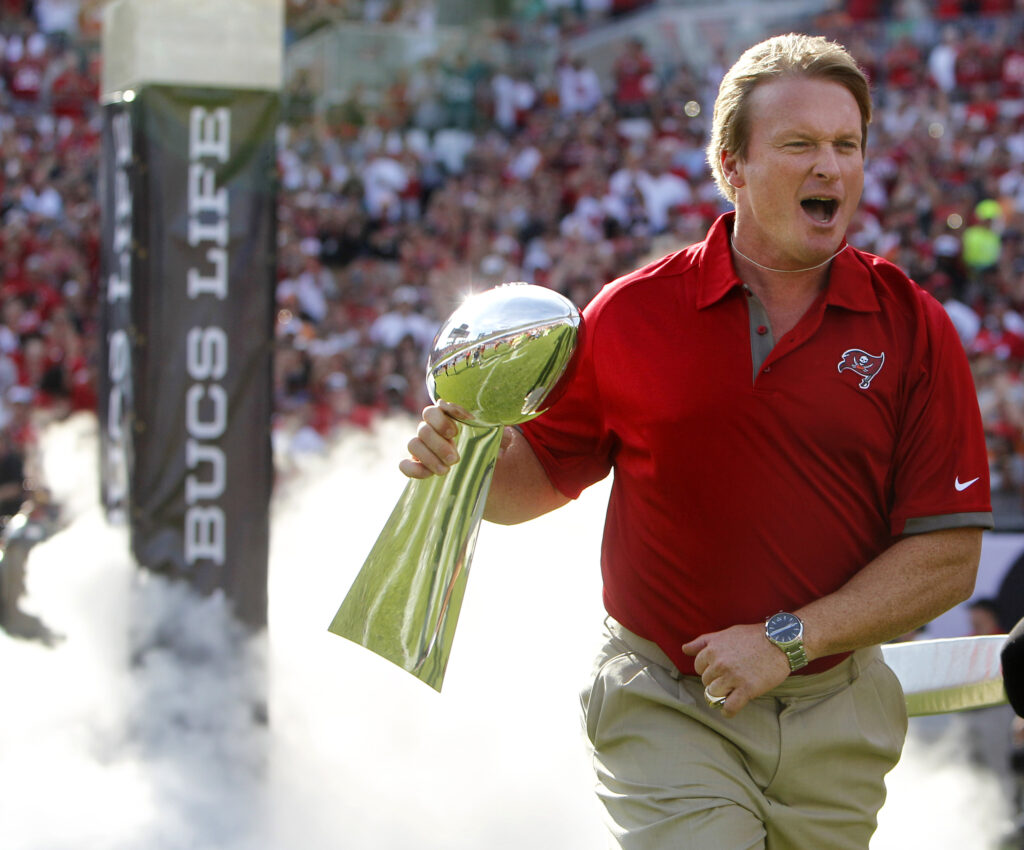 It's hard to imagine there could be a regular-season game in Las Vegas Raiders' future that could rival the one they played against the Kansas City Chiefs at Arrowhead, but there might be one. Coming off the bye, the Silver and Black have a tough matchup with a lot of build. A win against the Tampa Bay Buccaneers next weekend could change everyone's perception of the franchise. So how important is that game for the franchise? You have look at the past, and then, glance at the future.
What's going on between the Bucs and the Raiders?
You can't talk about this game without addressing the elephant in the room. Back in 2002, following the heartbreak of the 'Tuck Rule', the late Al Davis traded Jon Gruden to Tampa Bay for two first-round picks, two second-round picks, and $8 million dollars. In less than a calendar year, Gruden's Bucs would meet those same Raiders in Super Bowl XXXVII, crushing the Silver and Black 48-21.
When two teams meet in the Super Bowl, they form an eternal bond. However, the Raiders and Buccaneers have a more interesting history than you might think.
Firstly, the two logos are similar. Both teams' logos have a pirate-esque undertone. The 'Bucs' have a red pirate flag with a sneering skull over crossed swords. Meanwhile, the Raiders have a pirate in a leatherheads' football helmet, wearing an eye-patch, over crossed swords. It's a silly superficial similarity, but don't worry, it goes deeper.
Gruden's Job
There's no doubt the Raiders are responsible for Gruden going to Tampa Bay. They were the victims in his greatest moment of triumph, but did you know they were also there for his greatest failure?
Back in 2008, then-Bucs head coach Jon Gruden's job was on the line against the then-Oakland Raiders. His squad had started the season with a 9-3 record. Then, they would drop three games in a row. A win would put the Buccaneers in the playoffs, but a loss would surely mean Gruden's job. Michael Bush went off for the Raiders, rushing for 177 yards and two scores, securing a 31-24 win for the Silver and Black. For the Raiders, it was just another win, only their fifth on the year. But for Gruden? It was his last hurrah in Tampa. Less than a month later, the team fired him.
Coming out party
This might seem silly, but there's a big difference between 6-2 and 5-3. If a team wins six of their first eight games, they're likely to qualify for the playoffs. It would take a meltdown of historical proportions for a 6-2 team to finish the year with a losing record. But a 5-3 record? That could just as easily be a 5-4 record, and it would take a late-season run to stay relevant. This was what the Raiders were facing when they traveled to Tampa back in 2016.
The Bucs, at 3-3, were at a crossroads themselves. After a 1-3 start, they'd won two straight, with sophomore quarterback Jameis Winston starting to find his footing. The game was going to feature two young, high-scoring offenses facing off in late October, and it did not disappoint. At the half, it was only 10-3, but after both squads scored 14 unanswered points, Derek Carr force overtime in the closing minutes.
Both teams had the ball twice and kick Sebastian Janikowski missed a 52-yard field goal that could've sealed the deal. Carr then found wide receiver Seth Roberts for a 41-yard touchdown pass, setting the Raiders single-game passing yardage record (513) and cementing the Raiders as a legitimate threat in the AFC. This win ended up putting the Raiders in the spotlight after years of irrelevance.
Related:Â 3 Thoughts About Raiders 40-32 Win Over Chiefs
Join The Ramble Email List