On the heels of a crushing defeat on Monday Night Football, Las Vegas Raiders defensive back Nate Hobbs broke some interesting news via his Instagram account. According to Hobbs' story on the social media platform, he played with broken bones in his hand during the game with the Kansas City Chiefs.
Hobbs' post states: "I broke bones in my hand and had a choice. I told them to do whatever they had to do to put me back on the field [with] my brothers. I'll figure the rest out myself. I done took my share of L's and stood face-to-face with enough fear. I ain't hiding, I'm right here."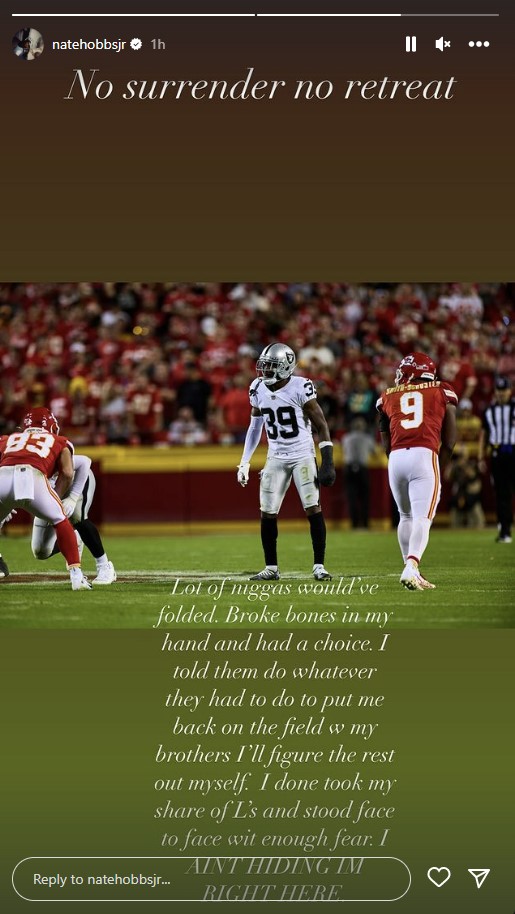 What does this injury mean for Nate Hobbs?
Hobbs' revelation carries legitimate concern. The Raiders' defensive backfield has been decimated by injuries this season. Losing Hobbs would be disastrous for the Silver and Black. His outing against the Chiefs wasn't as impressive as his previous games. Perhaps his injury played a role in this. He's arguably been the best cornerback for the Raiders, regardless of where he lines up. It'll be interesting to see how this story develops now that Hobbs has made this public information. We'll likely begin to see news updates pour in once the story gains traction.
Luckily for Hobbs and the Raiders, they're entering a much-needed bye week. The break will help the roster get back to a healthy state, especially on defense. As far as Hobbs' hand, playing with broken bones will go a long way to help to prove his toughness. Needless to say, he's quickly becoming a true leader on this team.
The Raiders Still Don't Have An Answer For Chiefs TE Travis Kelce
*Top Photo: Heidi Fang/Las Vegas Review-Journal
Join The Ramble Email List