An AFC West season finale between the Las Vegas Raiders and Kansas City Chiefs has been announced for 1:30 p.m. PST on Saturday. After a crucial loss on Sunday against the 49ers, the Raiders will have a short week to get ready for another tough divisional battle. The good thing is that since Kansas City has clinched the AFC West, they might not play the Raiders with the same amount of anger or vigor in order to stay healthy and ready for the playoffs. As for Josh McDaniels' Raiders, they still need to go out and perform. It's not too far-fetched to consider that some players are playing for another shot in 2023.
This will be a quick week for Josh McDaniels and the Raiders
"So, we kind of had some plans in place either way. It won't change over the next few days. We're going to do the right thing with the players. We got some guys with bumps and bruises. It was a physical game yesterday," said head coach Josh McDaniels in a recent transcript. The team's injury report has been released. In it, there are a few notable injuries to Josh Jacobs and Darien Butler. Looking back, the game was a battle on both sides of the ball, as it was high-scoring, close, and went into overtime. It should also be noted that Davante Adams and A.J. Cole were both listed as limited on Tuesday due to undisclosed illnesses.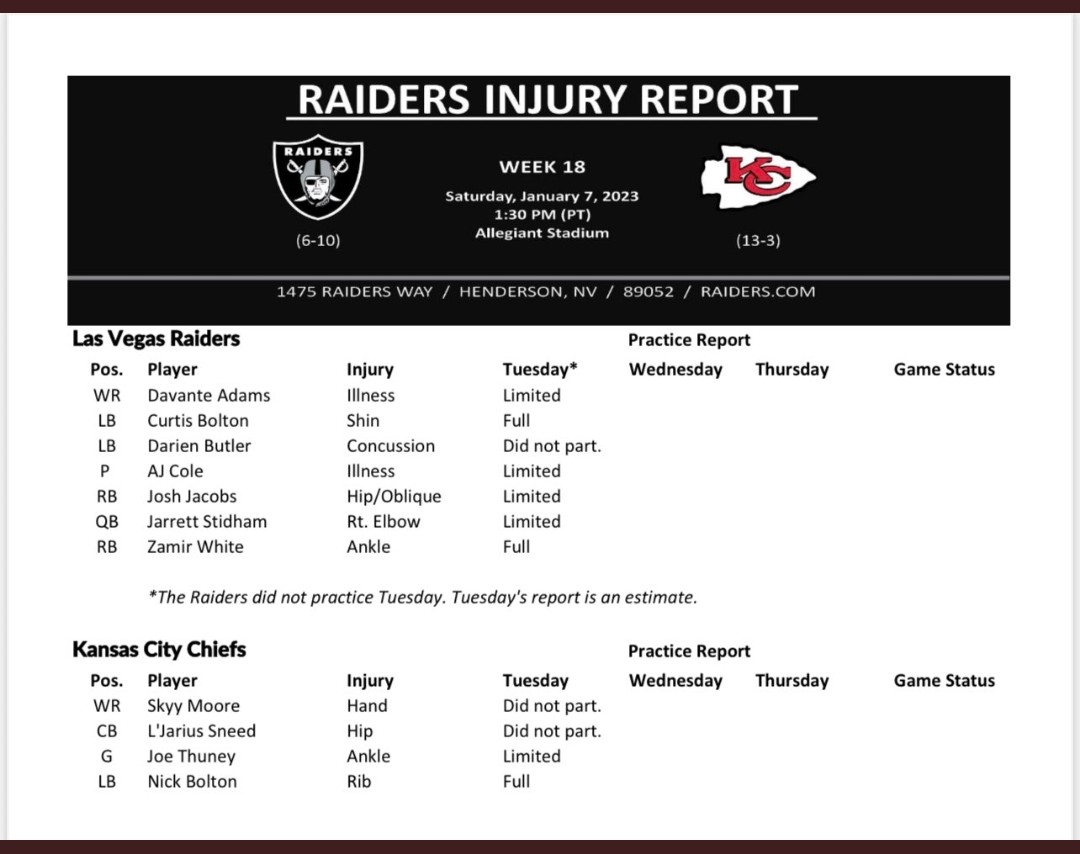 McDaniels said that they are preparing to plan this week out the same way they did when they played Pittsburgh, which is making sure everyone is treated, watching film, practicing, and then running a final cleanup on Friday. "We're not going to cram three days in and start practicing tomorrow. So, we'll make sure we've got our preparation ready to go. We'll do whatever we choose to do Wednesday, and we'll be smart about it," said McDaniels in the same transcript.
It was a rollercoaster of a year for the Raiders, and that's putting it nicely. They're ending the season with a losing record and possibly losing their franchise quarterback as well. Even so, there were a few silver linings as well. Seeing Jarrett Stidham perform the way he did on Sunday, getting tight end Darren Waller and wide receiver Hunter Renfrow back to health, and seeing what Adams is capable of no matter who's throwing him the ball was a sight to behold.
What should Raiders fans look forward to?
This will be a big game for Stidham to continue to prove himself and see how he recovers after taking some big hits on Sunday. At this point in the season, the Silver and Black are looking ahead to the NFL draft and the future of players like quarterback Derek Carr and, of course, No. 28 Jacobs. With all the media speculation, there's no telling what's going to happen within the organization during the offseason.
Is It Safe To Say The Raiders Won The Jarrett Stidham Trade?
*Top Photo: Kirby Lee-USA TODAY Sports
Join The Ramble Email List