The following is a work of satire and humor by Raiderdamus about the Las Vegas Raiders. It may contain offensive language or imagery and as a result it should not be read by anyone.
Greetings, Raider Nation! It is I, the whisky in your coffee, the hole in your donut, and the Internet's most reliable source of football-related humor, Raiderdamus the Great and Powerful. It is with a heavy heart that I pen this, the final Foretelling of the 2022–2023 NFL season. As you might know by now, the Raiders have missed the playoffs. The Raiders surely have a bright future ahead of them. That's because they will either experience great success or blow themselves up in spectacular fashion.
Raiderdamus' Friday Foretelling: Raiders vs. Chiefs
The Raiders indeed have one more game on their schedule. That contest is against their most-hated rival. I could honestly say that about every game, since the Raiders and Raider fans hate every other team with a burning passion, but I digress. This one is against the ketchup-colored menace to the east. And so, for the last time this season, I have asked the Great Beyond to send word regarding his thoughts on the upcoming game. Here is the message I received:
"The past year hasn't been easy for Chiefs fans. Last year was the first time most of them followed a team that didn't make the Super Bowl. The Chiefs might as well not have existed before YouTube highlights of Patrick Mahomes started trending. Most of these nouveau-riche jack*sses think Elvis Grbac died on his toilet in 1977 and Steve Bono is the lead singer of U2.
ChiefsAholic: Story of the Year presented by Raiderdamus
2023 will be bad for Chiefs fans as well. They'll be watching their team lose in Buffalo in the playoffs in a snowstorm, which will surely make them not want to go to junior high the next day. Perhaps some losing is good for the soul; it keeps the fanaticism away. Being a Chiefs superfan is a dangerous proposition these days. ChiefsAholic, a Chiefs fan who dresses up as a wolf and attends every Chiefs game, was conspicuously absent from December's Chiefs vs. Texans game. Even more unusual, he did not Tweet at all during the game. This raised some red flags in Chiefs Kingdom. They then went looking for answers and found them in a mugshot.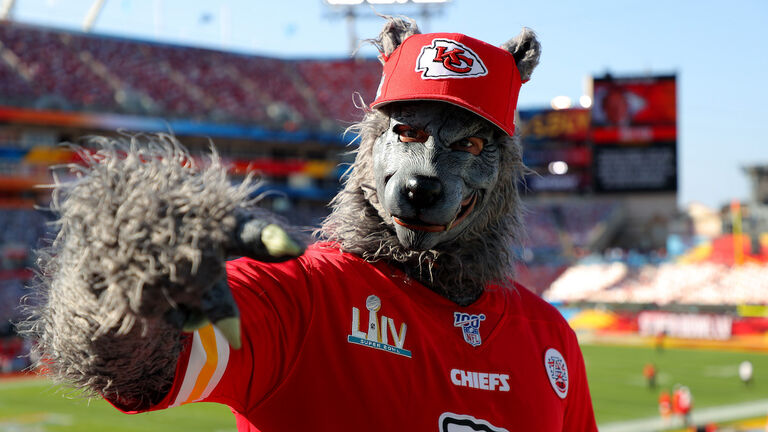 ChiefsAholic was not at the Texans game in Houston because he was in a Tulsa, OK jail cell, having been arrested for robbing a bank on the Friday before the game. The bank in question was the Tulsa Teachers Credit Union, because if there's one thing a Chiefs fan gives absolutely no shits about, it's education. Apparently, Chiefsaholic has been funding his lavish lifestyle of going to every Chiefs game by robbing banks. He's like the reverse Robin Hood. You see, instead of stealing from the rich and giving to the poor, he's stealing from teachers and giving to the Chiefs. Being a bank robber is the second-most shameful thing about ChiefsAholic, behind only the fact that he dresses up in a furry costume to go to football games.
Raiders vs. Chiefs: The Super Fans
In late 2021, Chiefs superfan X-Factor, known for wearing a red triangle on his head, was kicked out of Arrowhead Stadium following a fight with fellow superfan RedXtreme, who apparently thought X-Factor threw a water bottle at him. X-Factor, of course, denied this. He also denied claims that he was a meth addict. That was on the basis that he is an alcoholic and a cocaine addict but is not addicted to meth. X-Factor also said he would not retire from being a Chiefs superfan because Jesus was persecuted as well, and he would just come back stronger.
Yes, when I think Jesus, I think coke-addled Chiefs fan. Perhaps the lack of perspective and sheer hubris are more dangerous than the copious amounts of drugs these people are on. I have never heard of a humble, level-headed Chiefs fan. That's because they do not exist.
Conversely, the Raiders have far less felonious superfans. All Darth Raider ever did was oppress the galaxy, slaughter some Younglings and blow up Alderaan.
The new State Farm commercial…
I have to admit, I did love the new State Farm commercial where Andy Reid draws on Pat Mahomes' face when he falls asleep on a plane. Andy absolutely crushed it in the commercial, just like he crushes every plate of burnt ends he sees and crushes his wife during sex.
While Kansas City fans are arguably the worst group of people on Earth, the Chiefs started out in Dallas, as the Texans. They quickly moved the team and became the Chiefs. This looks to be a solid choice- losing a conference championship may be a low point for the Chiefs, but it's more than the Cowboys have accomplished in over 25 years. The Chiefs set high standards as a team, while their fans are just high.
I suspect the Chiefs' 2020 playoff game against the Texans may have started Deshaun Watson's reign of terror against unsuspecting, innocent massage therapists. Watson got up big early, and the Chiefs finished him off late.
Raiderdamus: Remember when Chiefs fans…
If Patrick Mahomes is lucky, he'll win another Super Bowl someday, and then he'll finally be as good as Eli Manning.
During the pandemic, Chiefs fans loudly booed the concept of racial unity. This is the second most embarrassing thing to happen at Arrowhead, after the overtime period of the AFC Championship game against the Bengals. Instead of dressing up like animals or Native Americans, Chiefs fans should cut off their mullets and cosplay as someone with class and a future.
I'm sure Allegiant Stadium will be filled with those inbred, slack-jawed, yokel Chiefs fans on Saturday. They'll be ready to root on their team by using all six words in their vocabulary, five of which are curse words, and the sixth is "wooooo." Oh, plus one racist chant they stole from the Atlanta Braves. And they'll see a good game from the Chiefs, which is all the happiness life will grant the lot of them. Mostly because they will each die alone, penniless, and toothless, surrounded by jars full of fingernails and urine like broke-*ss versions of Howard Hughes. There is no Hell elaborate or desolate enough for Chiefs fans, no place bereft enough of the grace of God to send them, that would ever be satisfying to me. I hope they all step on Lego blocks for eternity.
Chiefs win, 41-23."
In case you missed it, check out all of this season's editions of Raiderdamus here.
*Top Photo: Icon Sports Wire
Join The Ramble Email List