Derek Carr can now be referred to as a former member of the Las Vegas Raiders. He was released Tuesday after a tumultuous end to his 2022 season. With his release, the Raiders are saving approximately $40.4 million in guaranteed money. For the first time in his career, Carr is a free agent. Carr exercised the "no-trade" clause in his contract and ultimately refused to be dealt. He made it clear he did not want to do the Raiders any favors by allowing them to receive draft picks in a potential trade. The multiple-time Pro Bowler did travel to New Orleans to meet with the New Orleans Saints' front office, but it was likely a free agency visit to gauge interest from the team.
Are teams looking to recruit Derek Carr already?
Carr expected to have some suitors, whether he was traded or released. The new tradition of current NFL players recruiting available free agents via social media began almost immediately after Carr was cut from the Raiders' roster.
Oh, when the Saints come marching in… 
The New Orleans Saints have been transparent in the media about their desire to improve at the quarterback position. Their current quarterbacks, Andy Dalton and Jameis Winston, aren't fulfilling expectations. The current Saints head coach is Dennis Allen. That's the same man who was Carr's first head coach in the NFL, and in case you forgot, Allen was fired midseason after a highly underwhelming run. Nevertheless, the Saints' visit went well. In fact, Saints defensive end Cam Jordan took to social media following Carr's release.
Jordan seems very interested in having Carr switch jerseys despite the Saints shutting Carr out this past season during a 0-24 route in Week 8. The Saints were not the only team to start a social media recruiting campaign.
I know I said adios to social media but @derekcarrqb I know it may be too soon but it's also Valentine's Day are you are you trynna swap out black and silver and fall in luv with BLACK & GOLD? 😅🫶

— cameron jordan (@camjordan94) February 14, 2023
Hmmmmmm…. https://t.co/MjuhMcKE4Z pic.twitter.com/nDXtGPE9rw

— cameron jordan (@camjordan94) February 14, 2023
"Sauce In The Carr"
The New York Jets excelled at almost every position in 2022 except the quarterback position. Head coach Robert Saleh was forced to improvise after quarterback Zach Wilson sustained an injury and then played poorly after returning. Saleh and general manager Joe Douglas are in the market for a quarterback after giving Wilson, Mike White, Joe Flacco, and Chris Streveler snaps during the regular season. Carr would be an upgrade compared to the other quarterbacks currently sitting on the Jets' roster. The Jets' Defensive Player of the Year winner, Ahmad "Sauce" Gardner, seemed to agree after posting this now-deleted Tweet.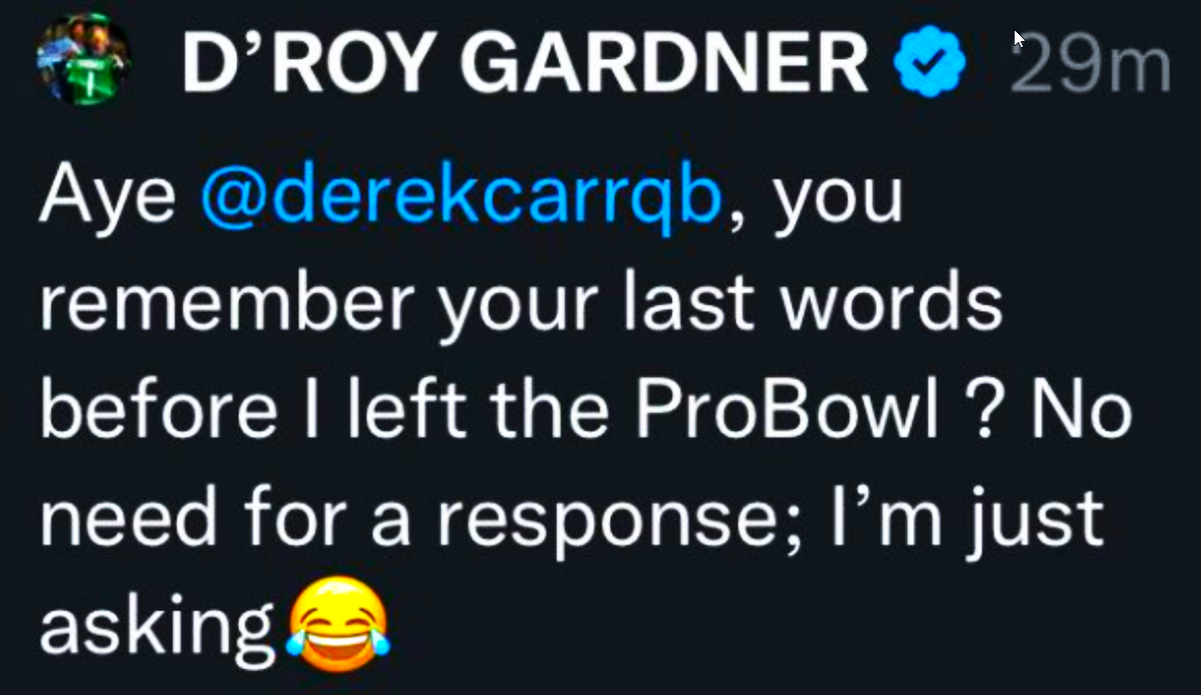 It is unknown what conversation occurred between Ahmad "Sauce" Gardner and Derek Carr. Gardner is ready to move on from Zach Wilson and the carousel of quarterbacks. It will be interesting to see what other teams host Carr on additional visits. At the very least other NFL players will use their platforms to coax Carr to their franchise.
*Top Photo: Yahoo Sports
Join The Ramble Email List