*The content of this article comes from A.J. DeMello and is for entertainment and comedy purposes.
Raiders lose to Jets 34-3
Raiders were in line for a game where they'd have to 'take their medicine', and who better to give it than Mr. I look like I forgot about my suppository?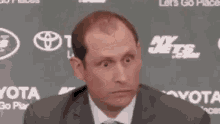 Derek Carr Won't Get Out Of The Ice-bath
"This week is gonna be heavy," says Raiders head coach Jon Gruden.
"Derek knows his record in cold weather. And we all know that Andy Reid is fat. I'm not sure if either affects the outcome of this football game.."
Derek's never come out of KC with a win before – and he doesn't play well in the cold. O-4 in games where the temperature is under 40 degrees at kickoff.
So @coachdelrio knows what he speaks of. Said Derek Carr does't like cold weather games. In games where temp is under 40 at kickoff.. here are his numbers:

0-4
152 Pass YPG
51% Comp pct
TD-Int (3-4)
9 Total QBR

Temps at Arrowhead will be in the 30's Sunday

— trey wingo (@wingoz) November 26, 2019
He's stayed after practice each day to stay in an ice bath until he sinks.
"This isn't Derek Carr this week," says Gruden. "
"You say there will be ice? Well I'm bringing Aquaman, bitch. Sorry, I didn't mean to swear. I just hate those f#%king Chiefs."
Gruden Said He'd Be Hard on His Quarterback
In the film room lately when Carr makes a mistake, Gruden shows him his "hey boo" texts to Jeff George.
A Post-Game Loss Ritual?
Offensive tackle Trent Brown dealt with the Jets loss by flushing his fruit-by-the-foot's down the toilet. Way not to make a loss stick? That toilet is f'd though.
Renfrow Injury: Another hit to WR core
The Raiders get a little older at receiver with number 13 out indefinitely. Losing Hunter Renfrow for them is kind of like losing their hairline. And if you don't think that's scary….imagine Mark Davis with Golem hair.
A Receiving Core or Russian Stacking Dolls?
I feel like this is a legitimate question.
Raiders Got the Butterfingers?
"Hell, I don't know what we're going to do if we can't hold onto the football," GrudLen said. "I told Edgar Bennett to switch out our hand soap for Aunt Jemima's."
A team source says that the Raiders have formally asked the league if tree sap is OK as long its not called, 'stickem'. There is no timetable on a response at this time.
Fan removes his own rib; FedEx's to Hunter Renfrow
"I was like dude," said Renfrow. "That's not how this works." No word on the man's condition, but it's probably not good.
For more of A.J.'s humor follow him on Twitter @humorousfiend
Join The Ramble Email List