With free agency less than a week away, the Las Vegas Raiders have glaring needs on the defensive side of the football. Specifically, the linebacker position has only two experienced players under contract entering the 2020 offseason. As the overhaul of the defense continues, there is one player that stands head and shoulders above the rest of the free agent linebacker group.
Undermanned and Overwhelmed
In 2019, the Raider defense allowed the third most receiving touchdowns to opposing running backs (six) out of the backfield. In addition, the linebacker corps allowed the fifth most receiving touchdowns (nine) to opposing tight ends. For that reason, Tahir Whitehead's future with the team is in jeopardy and the team will likely be seeking to upgrade in free agency and the draft. Conveniently, there is one player that can immediately render the ailments of a lackluster position group.
Here Comes Joe Schobert
Schobert, is the definition of a Gruden Grinder at heart. The University of Wisconsin alumnus was selected in the fourth round of the 2016 NFL Draft and has fought to become one of the league's most complete linebackers. In his rookie season, the veteran was predominately a special team player that only saw 22% of defensive snaps. Since then, he has been a heat seeking missile to opposing ball carriers, tallying 380 total tackles over the past three seasons. While tackles are great, they are not the only measuring tool of a linebacker's skill set.
Impact Ability
There is more to a quality linebacker than tackles and in 2019, Schobert forced six turnovers from his middle linebacker position. Two of those turnovers were forced fumbles, such as the play below.
Joe Schobert forces it out and Denzel Ward recovers!

Our 🏈!#CLEvsDEN pic.twitter.com/nq34NDQKtg

— Cleveland Browns (@Browns) November 3, 2019
Flying to the ball carrier is good, but the ability to create turnovers is invaluable. In fact, Raiders linebackers accounted for zero forced fumbles and only one interception in 2019. Speaking of interceptions, Schobert nabbed four last season.
🚨 TURNOVER

Joe Schobert with the INT!#PITvsCLE | #TNF

(via @NFL)

— PFF (@PFF) November 15, 2019
His instincts lead him to the ball, whether it is in pass coverage or as a run defender. His natural ability to excel at any linebacker position makes him an incredible asset to any defense.
Coverage Ability
In 2018, Schobert showcased that he has the ability to be highly effective in coverage.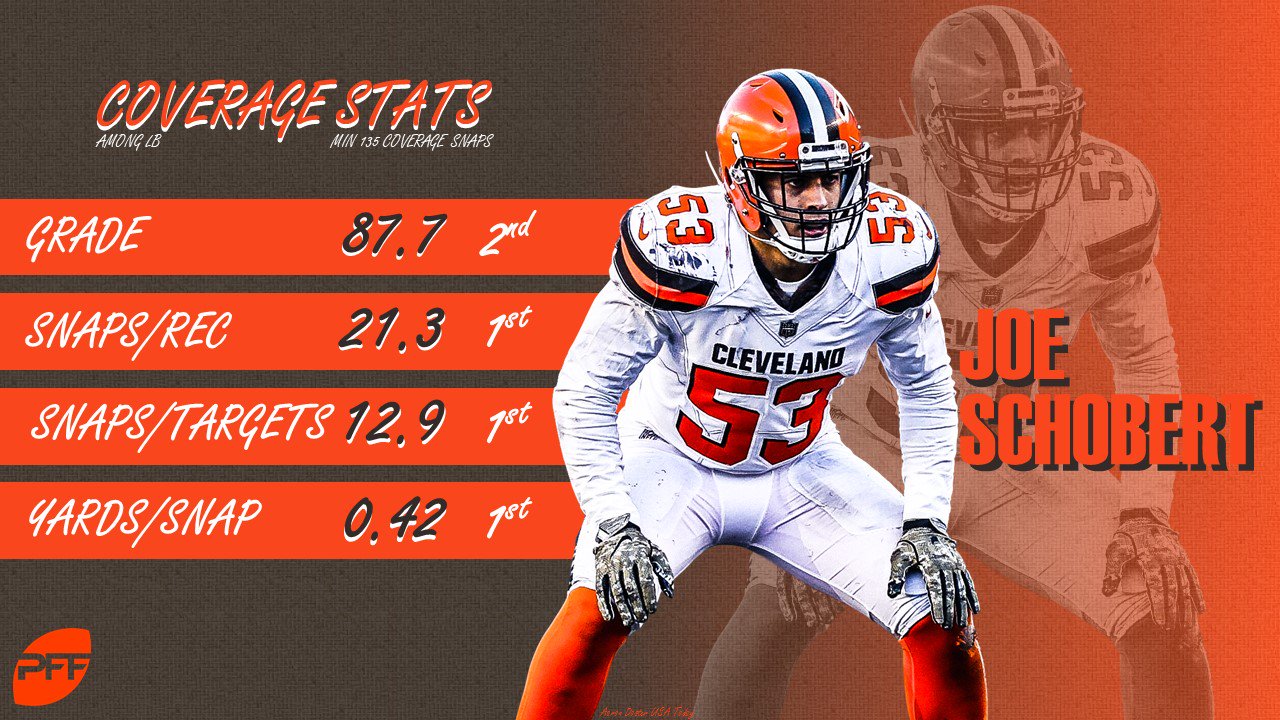 In 2019, he had a slight dip in coverage production but still had moments of brilliance when tasked. According to Pro Football Focus, he had eight games where he had an average or better grade.
Against the Run
Schobert is effective in pass coverage, but he is also a quality run defender. He accounted for seven tackles for loss on the season, more than any Raiders linebacker in 2019.
Related: Which Route Should Raiders Take with the Linebacker Position?
A more important stat is the fact that he was the third best linebacker in STOP plays according to Pro Football Focus. A STOP is a tackle that constitutes a "failure" for the offense. Schobert had 35 STOP's, which trailed only the now retired Luke Kuechly and Texans linebacker Zach Cunningham. He separates himself from others at the position with his closing speed to the ball carrier, as seen below.
Joe Schobert is such a difference maker for this defense. Reads run and closes at a ridiculous pace to blow Mixon up in the backfield for the TFL. He is a top flight MIKE LB. #BrownsFilmBDN pic.twitter.com/zRaNJOKnOt

— OBR Film Breakdown (@TheOBRFilmBDN) November 26, 2018
The Raiders run defense is already stout, but shoring up the group behind the defensive line with a man of Schobert's caliber and determination to succeed will make for a strong foundation to build the defense moving forward.
High Praise Will Peak the Raiders Interest
Back when he was an NFL Network analyst, Raiders general manager Mike Mayock, spoke highly of Schobert after his selection in 2016.
"You can see what kind of athlete this young man is. I like what he can do off the edge. I like his ability to drop in coverage. And he is tough enough at the point of attack. You can move him inside or outside. We talk about guys who can handle the pass game. Schobert is one of them."
Schobert has undoubtedly caught the eye of the Raiders front office, and will more than likely be one of their first free agent targets. With his great defensive aura, he will have a multitude of bidders for his services. The Silver and Black have the means to acquire a 26 year old inside linebacker in his prime, expect them to make a strong push for a 'Gruden Grinder' when free agency begins.
You May Also Like: Raiders Can't Overlook Safety Position
Join The Ramble Email List