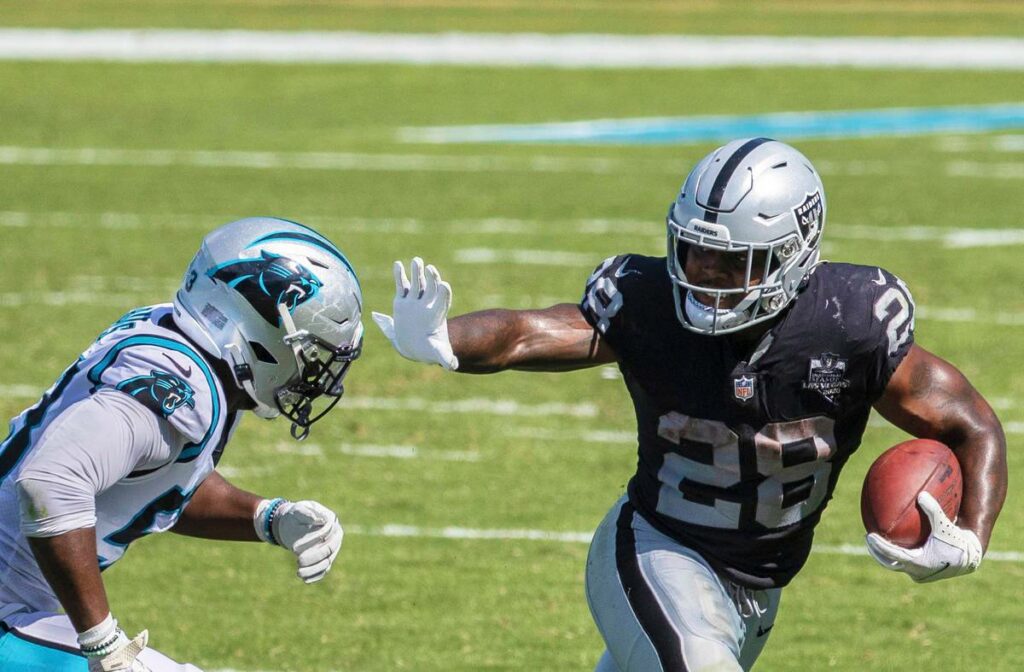 The Las Vegas Raiders are 2-2 clearing the quarter mark of their schedule. They have looked great at times while looking like they didn't belong on the field at others. If you remember the movie "The Replacements", Keanu Reeves speaks of quicksand being his biggest fear. This team has had its fair share of quicksand in 2020. Things can be going great, then one thing happens (injuries), then another (bad calls), then another (bad execution), and before you know, the team is in over their heads, sinking quicker as they struggle more. Let's look back at how they got here.
The Raiders have had shown both promise and shortcomings in 2020
Week 1 @Panthers
The Raiders came out strong and brought the fight on the road in Carolina to start their inaugural season. Derek Carr was consistent overall and completed 22 of 30 passes for 239 yards and one touchdown. He did so while hitting the team's wide receiver additions, Henry Ruggs III and Nelson Agholor.
He didn't forget about his favorite targets and still fed tight end Darren Waller and wideout Hunter Renfrow. Running back Josh Jacobs took over that game with 139 all-purpose yards and three touchdowns. They ended putting up 34 points and walked away victorious.
The defense had one sack, which defensive tackle Maurice Hurst Jr. and defensive end Carl Nassib shared. They allowed quarterback Teddy Bridgewater to put up almost 300 yards with one touchdown. Running back Christian McCaffrey also tallied 135 all-purpose yards and two touchdowns himself. All in all, the Raiders defense allowed 30 points. Despite the points allowed, sophomore Johnathan Abram stood out on the field after missing almost all his rookie season.
Johnathan Abram is the Raider's most important defensive player. Christian Mccaffrey got the ball 4 straight times & Abram helped stop him all 4 times.. #RaiderNation pic.twitter.com/mgfHcq2VmF

— Sanjit T. (@Sanjit__T) September 14, 2020
Related:Â Raiders Need To Shake Things Up At Safety Position
Week 2 Vs Saints
The Raiders carried the momentum from their season opener to their opening night at Allegiant Stadium. It started rough and the New Orleans Saints sacked Carr three times. He fumbled a couple of times, one for loss, but was consistent through the air, completing 28 of 38 passes for 284 yards and three touchdowns. Jacobs held his own, racking up 105 all-purpose yards and Jalen Richard even made a nice run for a touchdown after a bad fumble. They put up 34 points and rolled to a 2-0 record.
https://twitter.com/pbcgod_/status/1308626409628155904?s=20
The defense had one lucky interception and zero sacks. Saints quarterback Drew Brees threw for over 300 yards and a touchdown without his number one target, Michael Thomas. Running back Alvin Kamara also had two touchdowns and 174 all-purpose yards. In the end, the Saints shot themselves in the foot on numerous plays and only scored 24 points when the dust settled. The Raiders offense saved their defense again.
The defense looked the same even though the Raiders were 2-0 and fans still raised questions about Guenther's job.
Related:Â Chiefs Defense Will Present Raiders 10th Ranked Offense With Tough Test
Join The Ramble Email List