The Tampa Bay Buccaneers soundly defeated the Las Vegas Raiders at Allegiant Stadium this past Sunday. They also displayed that they outclassed Las Vegas in regards to the 2019 NFL draft and 'Bucs' linebacker Devin White personally made the Silver and Black pay for last season's draft blunder.
Devin White was out for blood against the Raiders in Week 7
Before the 2020 NFL regular season started, White had October 25 circled on his calendar.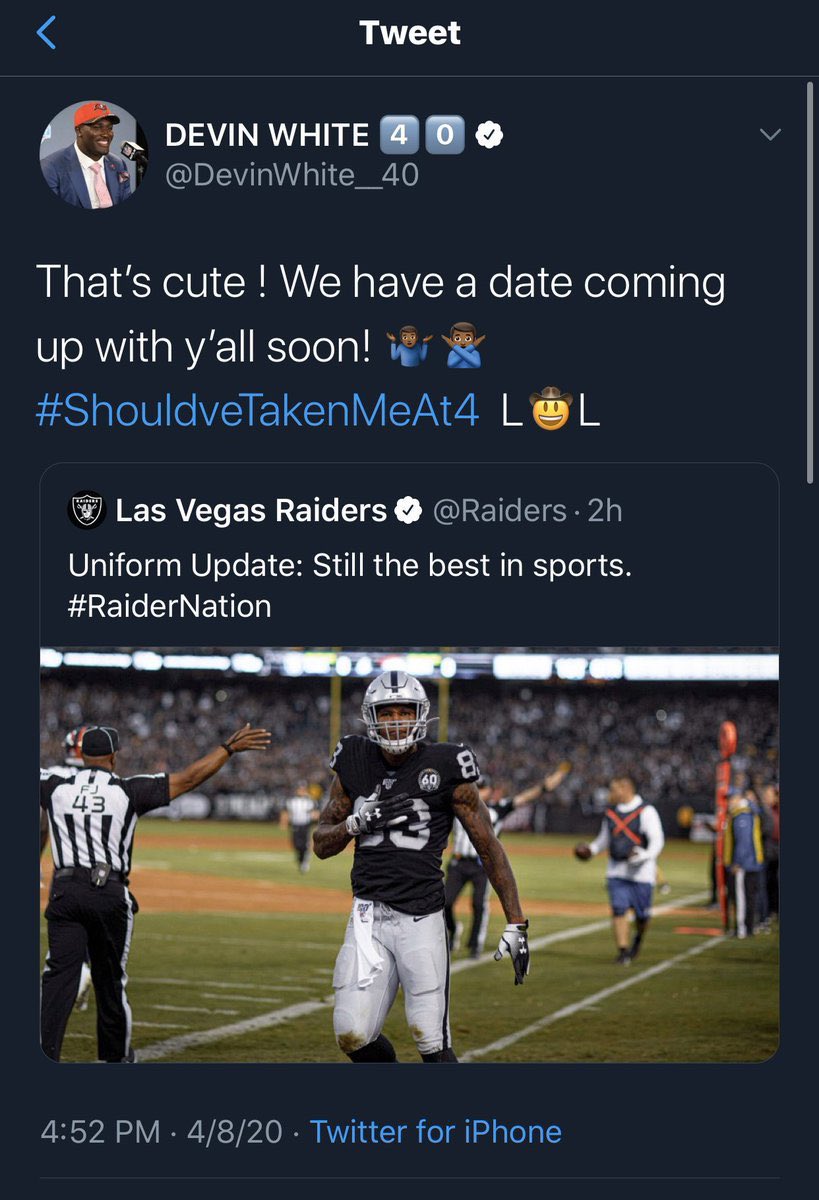 Though the Tweet was deleted afterward, White emphatically erased the notion that the Raiders should not have drafted him in 2019. On Sunday, White was a heat-seeking missile and genuinely reminded the Silver and Black on the plays below.
Devin White…… Enough said 🤠🔥#GoBucs pic.twitter.com/LOrRg2fP3r

— AllThingsBucs (@AllThingsTBbucs) October 25, 2020
After that, he stamped his signature on a thunderous message to the Raiders' front office late in the fourth quarter.
Devin White just crushed Derek Carr on 4th-and-1. Sheesh. pic.twitter.com/0Ds1UZDd1m

— Ari Meirov (@MySportsUpdate) October 25, 2020
In addition, he took to Twitter yet again after the game. This time, he did not remove the Tweet.
Damn I only made reservations for the #Bucs #GetLive45🤠😂 pic.twitter.com/AgAkCVSJKE

— DEVIN WHITE (@DevinWhite__40) October 25, 2020
Aside from punishing Las Vegas ball-carriers, Devin has quickly made a name for himself as one of the top linebackers in the league.
Devin White among LBs:
🔺 17 Total Pressures (1st)
🔺 4 Sacks (1st) pic.twitter.com/5D6IMlsktI

— PFF (@PFF) October 26, 2020
Comparatively speaking, the NFL's 2019 fifth overall draft pick is in a class of his own as a defender in his second season versus the selection before him.
Related: These 3 Issues Could Hurt Las Vegas Raiders Down The Road
Underwhelming Ferrell
Raiders defensive end Clelin Ferrell has not met the expectations of a fourth overall selection. Other draft picks in the same slot in other years include:
2018 – Cleveland Browns cornerback Denzel Ward made the 2018 NFL All-Rookie Team. In addition, he earned Pro Bowl honors in his first campaign.
2017 – Former Jacksonville Jaguars running back Leonard Fournette amassed 1,040 yards rushing with nine rushing touchdowns in his rookie season. The LSU standout was an integral part of the 2017 Jacksonville Jaguars AFC Championship playoff run and registered four rushing touchdowns in three playoff games.
2016 – Dallas Cowboys running back Ezekiel Elliott was a first-team NFL All-Pro in his rookie season. In total, 'Zeke' has three Pro Bowl bids and is one of the league's top players at his position.
2015 – Former Raiders wide receiver Amari Cooper made the 2015 NFL All-Rookie Team. Furthermore, he also earned Pro Bowl honors in his debut season with the Silver and Black. Since then, Cooper has generated three more Pro Bowl designations and is an above-average player at his position.
Ferrell has yet to earn any accolades of significance. However, Pro Football Focus currently ranks him as the 14th best edge defenders in rush defense with a 72.5 grade. His selection in 2019 was based on 'scheme fit' for a defensive coordinator who has the second-worst DVOA (defense-adjusted value over average) in three seasons with the Silver and Black.
#Raiders rank in defensive DVOA by year since 2014:
2014: 26th
2015: 16th
2016: 24th
2017: 24th
2018: 31st
2019: 31st
2020: 31st (thru week 6)
The defense wasn't good when Mack was there but has been considerably worse without him

— Josh Dubow (@JoshDubowAP) October 27, 2020
For a team that ranks among the worst in generating pressure on opposing quarterbacks, much more is required from Clelin moving forward.
In Review
White may play a different position, but he has two more sacks (6.5) than Ferrell (4.5) in one less game played. In addition, White is proving that he's much more than a one-dimensional defender. Looking at how much of a liability the Raiders defense has been, this past Sunday was a grim reminder that this team cannot afford to and shouldn't pass up premier defensive talent.
Acquiring players strictly based on 'scheme fits' for a consistently poor defense is a recipe for failure. Should the talent be there and the defense still suffers, it may then be time to re-evaluate the coaching of said unit. Until they display signs of improvement, the Silver and Black front office will be scrutinized for wasting draft capital.
You May Also Like: Raiders' Road To Playoffs Starts By Beating Browns
While you're at it, make sure you listen to the Raider Rumble lastest, where CJ breaks down the Raiders upcoming matchup against the Cleveland Brown.
Top Photo by Adam Glanzman/Getty Images
Join The Ramble Email List