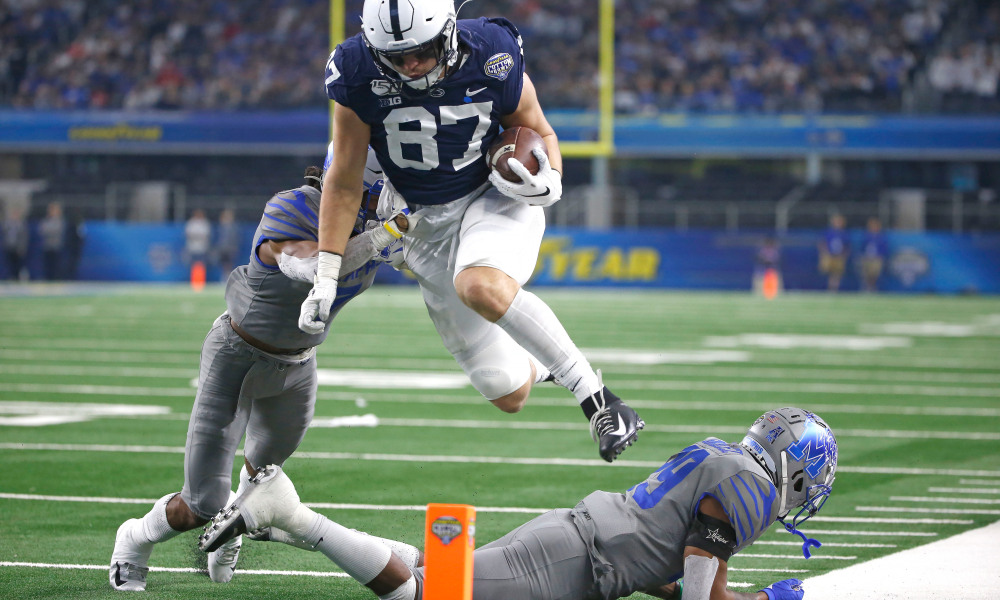 This year's crop of tight ends is one of the most top-heavy position groups in this draft class. The Las Vegas Raiders already have a couple of studs in Darren Waller and Foster Moreau and the top prospect in the selection meeting will be out of reach when they're on the clock at 17. Nevertheless, they should consider giving this year's crop a look.
1. Kyle Pitts, Junior, Florida
Pitts is not really a tight end, he is more like a big wideout. Teams should not expect him to line up tight to the offensive line very often, or do much blocking. That being said, he is one of the most dynamic offensive weapons in this draft. He can do everything you would ask of a wide receiver. He is essentially a slimmer, faster version of Darren Waller. As great as it would be to see the Florida standout wear the Silver and Black, he's a surefire top 10 pick.
Grade: Top 10
2. Pat Freiermuth, Junior, Penn State
As far as true tight ends go, Pat Freiermuth is far and away the top prospect. He is a matchup nightmare in the passing game because of his size and athleticism. While blocking is not his strength, he posses all the physical tools necessary to be a competent blocker. The ceiling for his potential could really be as high as Travis Kelce. If the Raiders didn't have Waller, the Penn State product would be an enticing option early in the draft.
Grade: Top 15
3. Brevin Jordan, Junior, Miami (FL)
Jordan is yet another versatile playmaker in this tight end class. While he may not be quite as physically gifted as the two prospects above him, he is a much more reliable blocker. You can actually count on him to seal an edge on run plays or pass protect. That being said, he is most effective in the passing game. Whether he lines up inside or out wide, he will create matchup problems. Also, he resembles Noah Fant of the Denver Broncos.
Grade: Top 40
[tps_title]Numbers four to seven[/tps_title]
Join The Ramble Email List