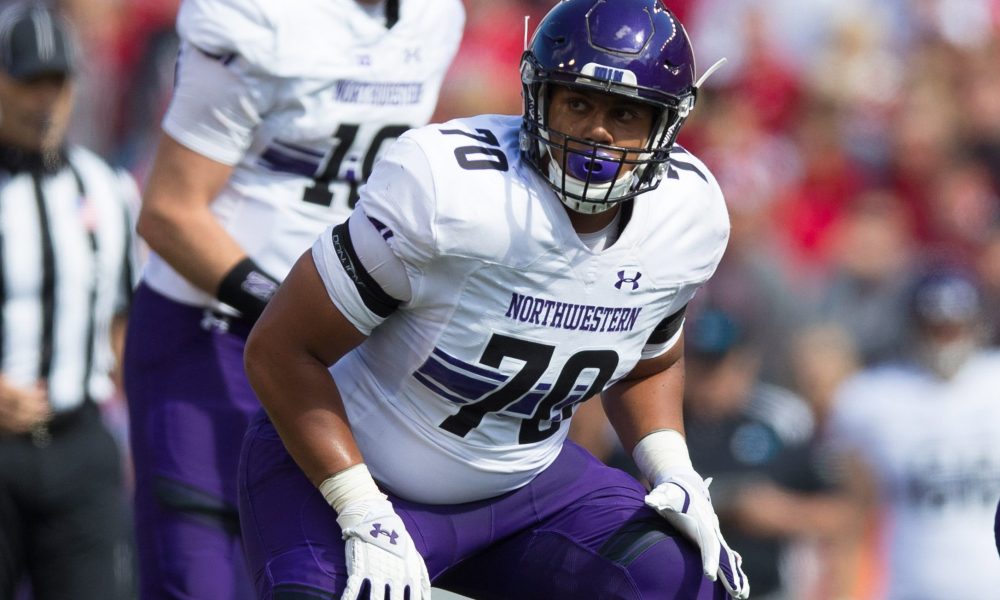 Here is yet another loaded offensive position group. At least ten tackles are going by the end of day two and the Las Vegas Raiders need to take one. Everyone in the top ten could realistically start at some point this season.
1. Penei Sewell, Junior, Oregon
In a loaded offensive tackle class, Penei Sewell still manages to stand out as a cut above the rest. First of all, he is arguably the most athletic tackle prospect since Taylor Lewan and he probably has more upside than the Titans tackle. He couples that athleticism with phenomenal footwork. It is so perfect that he can block people without putting his hands on them. This is actually concerning for a moment. Is his first step so good that it masks flaws when he engages? Nope. Further analysis of the tape proves that he is a mauler at heart. He is constantly looking to put a hat on people. In a class without Trevor Lawrence, he would be a threat to go number one overall.
Grade: Top 3
2. Rashawn Slater, RS Senior, Northwestern
Of the top tackles in this draft, Slater is one of the shortest. This has led to concerns about arm length and also athleticism since he is a bit thicker than the rest. However, all of those concerns go right out the window when you watch the tape of him mauling Chase Young from 2019. He brings memories of David Bakhtiari. His potential floor is a long career as a top 15 tackle in the league while his ceiling is at an All-Pro level.
Grade: Top 10
[tps_title]Numbers three to six[/tps_title]
Join The Ramble Email List