The NFL's crown jewel has morphed into a Raider fan's worst nightmare. A disappointing season for the Las Vegas Raiders ended mercifully in early January, but the pain did not stop there. As the dust settled on Championship Sunday, two teams stamped their ticket to the Super Bowl.
The Tampa Bay Buccaneers and the Kansas City Chiefs will face off in Super Bowl LV at Raymond James Stadium.
It HAD to be the Raiders, didn't it?
A Super Bowl featuring a quarterback making his tenth appearance, last year's title winner, creative offenses, opportunistic defenses, and high stakes should make for an electric game right? Not if you're a Raider fan. Just how many painful narratives are packed into one Super Bowl showdown? Too many, and we're going to rip the band-aid off. 
The Raiders could've signed Tom Brady
The face of free agency this past offseason, Tom Brady sent Raider Nation into a frenzy while rumors swirled of Mark Davis's interest in the Hall of Famer. Some thought the 43-year-old had some juice left. Others felt Derek Carr was the answer for the next five years. 
The Raiders very seriously considered signing him.
Brady chose Tampa Bay, and set records for their franchise with 40 passing touchdowns and a victory over Green Bay in the NFC title game. He accounted for five total touchdowns against the Raiders, beating them 45-20 at Allegiant Stadium in Week 7.
Would he have the same success with a Raider team that ranked 25th in total defense? Ask 100 people on Twitter and you'll get 100 passionate answers. In any case, any Super Bowl headlined by the NFL darling and beneficiary of the Tuck Rule is a disaster.
Jon Gruden's old team, the Tampa Bay Buccaneers, made it
The Tuck Rule ended the Raider's 2001 playoff run in Foxborough, but it didn't sink them completely. The Raiders would return in 2002 to make a Super Bowl appearance. Their opponent? Jon Gruden's Bucs. 
Did we mention Tom Brady plays for the very same Tampa Bay Bucs? The franchise that handed the Oakland Raiders a bitter defeat at Qualcomm Stadium in that very Super Bowl appearance?
Barrett Robins. Jon Gruden on the opposing sideline. Rich Gannon's five interceptions, Bill Callahan's failed game plan. All these setbacks crushed the Raiders and sent them into a tailspin for Al Davis's twilight years. Now, the 'Bucs' are back, but the Raiders are still trying to find their way.
Remember Antonio Brown spent time with the Raiders?
When the Raiders traded for Antonio Brown they had their sights set on a prolific offense leading a Super Bowl push. If you said Antonio Brown would be making his first Super Bowl appearance I might have guessed the Raiders made it happen.
It just can't be that easy, right?
'AB' got cold feet, chastised Mike Mayock, wiretapped Jon Gruden, and forced his way out of Vegas. The All-Pro wideout became a villain for the Silver and Black. Surely his antics would deliver some karma though…. right?
After a short stop in New England playing with Tom Brady, Brown signed with Brady's new team in the middle of the 2020 season. He now stands to make the very championship appearance he was supposed to help the Raiders achieve. 
Devin White hasn't forgotten
Clelin Ferrell was drafted fourth overall in the 2019 NFL Draft. A Raiders team desperate for play makers went for the Clemson standout to anchor their defensive line and fill the void left by All-Pro defensive end Khalil Mack.
Devin White went one pick later and fifth overall to the Buccaneers. The standout linebacker made no qualms about the Raiders deciding to skip on his talent.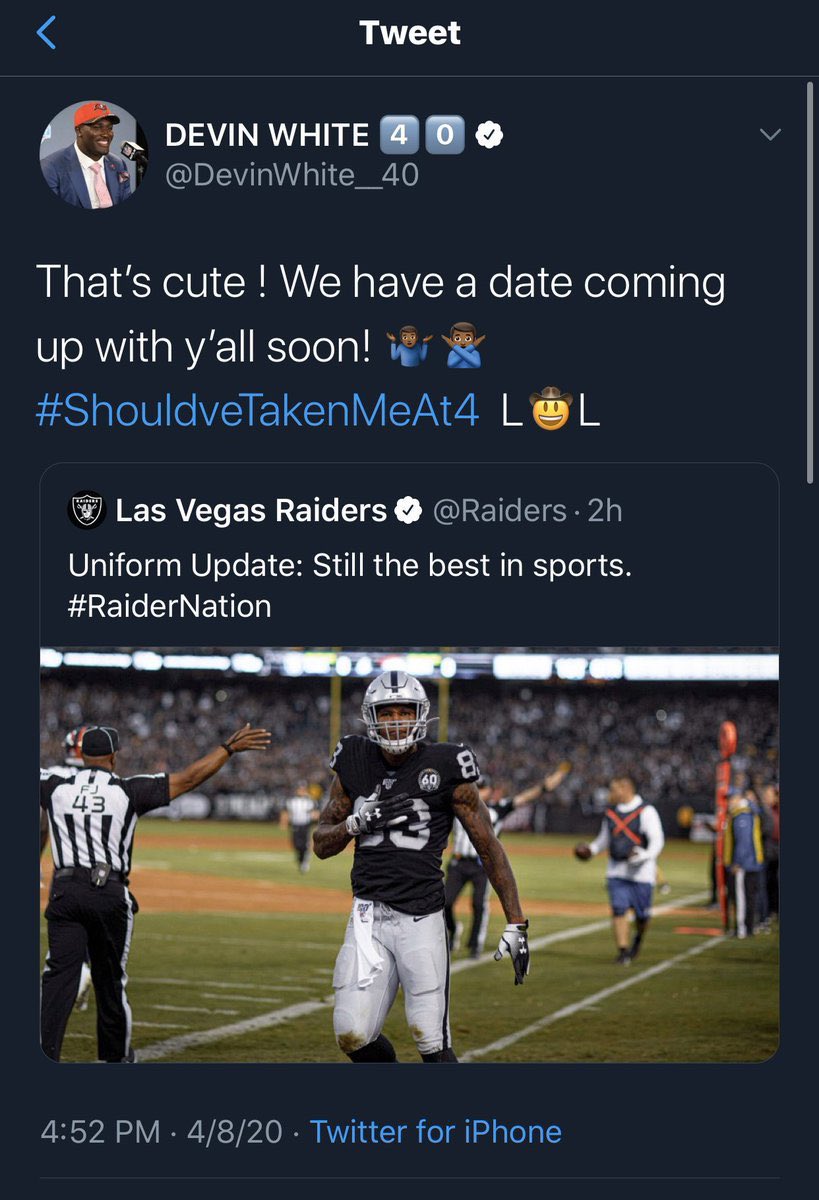 A strong rookie campaign in 2019 produced 2.5 sacks, an interception, and more than 90 tackles. He rushed the passer with even more fervor in 2020 with nine total sacks. Three of those nine sacks came against the Raiders in a 45-20 loss. You can wonder just how productive White would have been in Paul Guenther's "defense", but it's hard to ignore a productive player that fell into your lap.
And then, there's the Kansas City Chiefs
Enough about the 'Bucs'. Let's hope their opponent can destroy them. What could be better than watching Brady, Brown, and the rest of the Tampa Bay franchise falter on the biggest stage? 
It's the Raiders' old AFL rival: The Kansas City Chiefs. After manhandling the Buffalo Bills at home they will make their second straight Super Bowl appearance for a chance to go back-to-back. The year 2020 must have signed a two-year contract. 
The Kansas City Chiefs have run circles around the league since trading up for Patrick Mahomes in 2017. Jon Gruden is no stranger to this team. The Raiders are 1-5 in 6 games against them since he began his second stint as head coach. The only win came this year and was followed by a revenge game at Allegiant on Sunday Night Football. They're not going away any time soon. Mahomes is 25 years old and may have 12 years of quality football left in the tank. 
Brady's Bucs vs. Mahomes' Chiefs. The ghost of Raiders past vs. the ghost of Raiders future. It's a lose-lose Super Bowl showdown. Even Tony Romo's announcing can't save this one.
You May Also Like: Potential Broncos Cap Casualties Raiders Should Consider
Top Photo: Paul Rutherford-USA TODAY Sports
Join The Ramble Email List