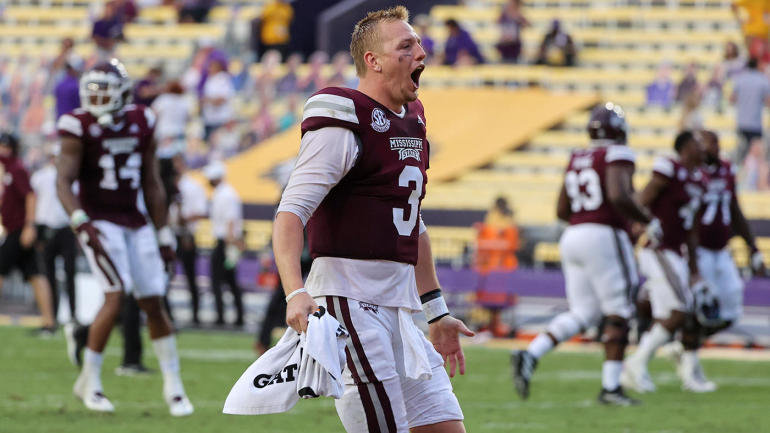 8. K.J. Costello, RS SR, Mississippi State
After transferring from Stanford, where he was little more than a game manager, Costello went to Starkville and showcased his ability to be a gunslinger. His athletic ability and arm talent were on full display in Mike Leach's offense. Also on display were some bad habits such as poor decisions, throwing off his back foot, unnecessary sidearm throws. At the end of the day, he is 6-foot-5, 225 pounds and he falls from the Mike Leach tree. Costello is essentially Gardner Minshew with some more upside. Expect him to be the belle of the ball among quarterbacks on day three.
Grade: Fourth round
9. Sam Ehlinger, SR, Texas
Watching Ehlinger, there is nothing that would be considered a "red flag" about his game. Then again, nothing jumps out at you from a talent perspective. He does everything alright, but that's about it. Also, he lacks any tantalizing physical attributes. He is about 6-foot-2 with above-average athleticism and adequate arm strength. The one thing that really stands out with Ehlinger is his poise. No moment ever looks too big for him. Ehlinger's abilities show someone who will likely never be "the guy" for any team. Still, he has the mentality that should keep him in the league for a long time. He projects similarly to another former Longhorn, Colt McCoy.
Grade: Late Day 3
10. Ian Book, SR, Notre Dame
Book had a great career with the Fighting Irish, winning 30 games as a starter. However, one has to ask whether college is the peak for Book. He has NFL athleticism, and makes good decisions with the football, but he lacks the size and arm talent NFL teams crave. At the next level, he projects as more of a game manager. In the right system, he could have a lot of success, but he's likely destined to be a career backup. Case Keenum would be an apt comparison.
Grade: Late Day 3
You May Also Like: Potential Bears Cap Casualties That Could Bolster Las Vegas Raiders
That Wraps up the first installment of draft rankings. Up next, we will look at running backs. For more Las Vegas Raiders analysis and football takes, make sure you follow Dalton at @blackman_dalton
Top photo: John Bazemore/Associated Press
Join The Ramble Email List