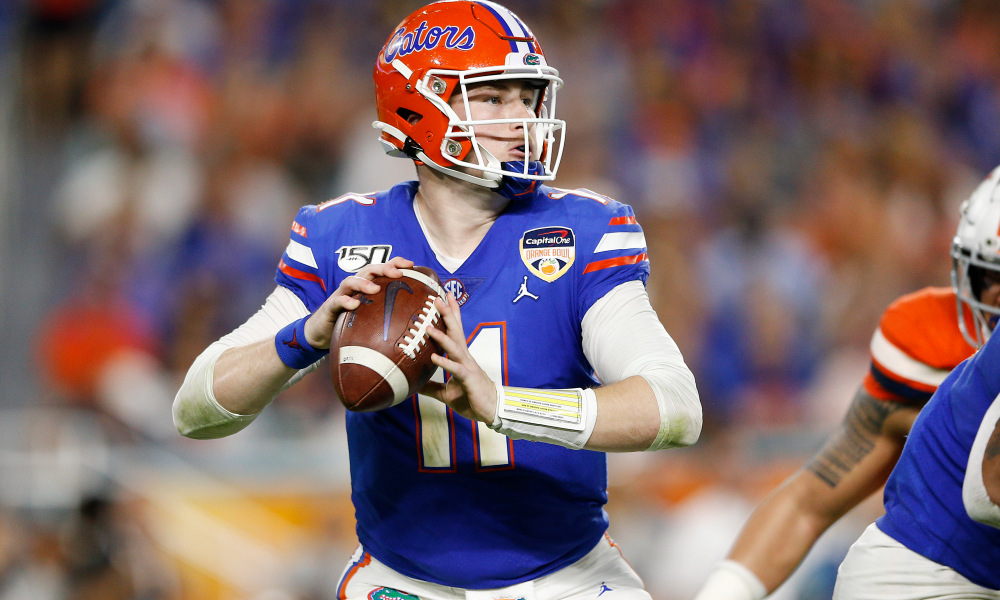 5. Kyle Trask, RS SR, Florida
Trask has phenomenal arm talent. He makes good decisions with the football as far as deciding where to go with it. However, he has a habit of not stepping into his throws and relying solely on arm strength, which leads to some bad balls. The biggest concern is that he has not had a lot of reps in college.
The lack of tape could be hiding flaws in his game, but their appears to be a lot of potential for growth if he can fix some mechanics. Taking Trask in the first round feels like a bit of a reach, but a team on the back end of the round may get scared into taking him there. He had too good of a year to make it deep into the second round and the talent of this quarterback class starts to get murkier after him.
Grade: Early second round
6. Mac Jones, RS JR, Alabama
Jones just looks like an NFL quarterback. He has all the measurables, his tape shows poise and good decision making, he puts up good numbers. He looks great on paper. The main problem is that its hard to measure ability in such a loaded offense. Also, there is not a lot of tape tape on him. As far as 'Bama' pocket passers go, he is somewhere between AJ McCarron and Tua Tagovailoa. He projects as a fringe-starter in the pros.
Grade: Late second round
7. Kellen Mond, SR, Texas A&M
Mond has a lot of tape against powerhouse teams like Alabama, Clemson, etc. These games show a clear pattern that tells you a lot about him. He shows flashes of brilliance where he proves he can play with the best of the best in college, but the games usually end in losses. In these games, one of two things happens: Either Mond is not able to make enough big plays that put his team over the top, or he makes critical mistakes that keep his team out of the game.
The positive from these games are that Mond is clearly capable of playing at the highest level of football. The negative is that is also clear that he will likely never be a high end starter at that level. He is a classic case of a guy with high floor but a low ceiling. At worst, he is Jacoby Brissett, at best, Baker Mayfield.
Grade: Late Day 2 pick
[tps_title]The Day 3 prospects[/tps_title]
Join The Ramble Email List