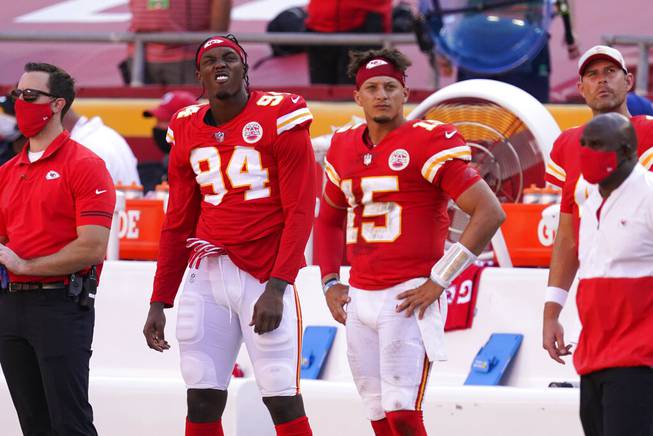 The biggest reason for the Raiders to trade for Watson is…
There is one big reason the Raiders need to trade for Watson, and it has nothing to do with either party.
It's Patrick Mahomes.
Mahomes is one of the greatest athletes to ever play the quarterback position in the NFL. The reigning MVP is currently chasing a second consecutive Super Bowl title this weekend. Furthermore, there is no need to wax rhetoric to explain his phenomenal stats and his stratospheric status among the NFL's elite.
The fact of the matter is this: The Raiders will have to play their division rival Mahomes twice a year for the next ten, twelve, maybe even fifteen years. Jon Gruden, as we know, is entering his fourth year of a ten-year contract. Mahomes will be as much of a problem in year ten, as he has been in the first three. If Las Vegas wants to seriously challenge the Chiefs, the best way to do it is to get the next best young quarterback in the league. You need someone who can go toe-to-toe with Mahomes, on a consistent basis, year in year out.
Carr has played well against the Chiefs. In his first game against Kansas City this season, he went 22-of-31 for 347 yards, three touchdowns, and an interception as the Raiders upset the hosts. In his second game, he was 23-of-31 for 275 yards, and an identical amount of touchdowns and interceptions.
Carr's play in Kansas City was concerning before 2020
However, before this season, Carr had a pretty substandard record against Kansas City. In both games of the 2019 season, he threw two interceptions against the Chiefs. Meanwhile, he only had one touchdown and the Raiders sputtered to 10 and nine points in each game. Moreover, until their Week 5 upset this season, the quarterback had gone a paltry 2-10 against the Chiefs over his career.
In addition, he has a miserable total of 15 touchdowns and 13 interceptions against them. Also, his 74.6 career rating against the Chiefs was the lowest of any opponent he had faced more than twice. It might be fair to say that Carr's improvement this season sits as an anomaly over his career when facing Kansas City. In fact, before 2020, you could argue Carr was consistently poor against the Chiefs.
[tps_title]Up Next: Derek is who he is[/tps_title]
Join The Ramble Email List