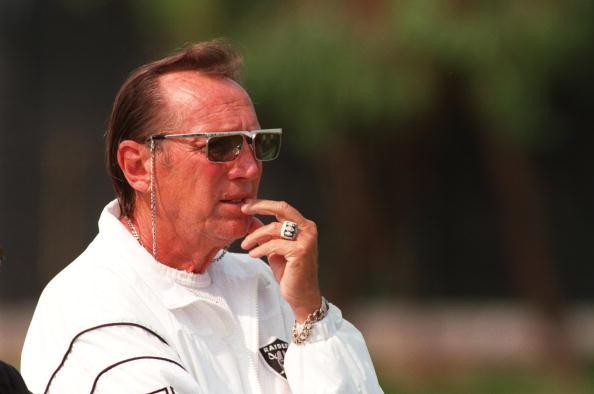 This trade would have had Al Davis all over it…
Whereas it is fair to say Carr is who he is right now, Watson's career trajectory is only on the up. A dual-threat quarterback, he is the first player in NFL history to have 4,000+ passing yards, 25+ passing touchdowns, 500+ rushing yards, and five rushing touchdowns in a single season.
Watson is also the fastest player in NFL history to record 50 passing touchdowns and 10 rushing touchdowns (after 26 games). When Watson was coming out of college, his coach, Dabo Swinney, believed he was on the same athletic plane as Michael Jordan.
Al Davis always coveted the physical specimens when recruiting players. For better or worse. There was Bo Jackson, Marcus Allen, Ted Hendricks, and Sebastian Janikowski. But there was also Todd Marinovich, Jamarcus Russell, and Darrius Heyward-Bey. Davis would always go for the home run, the hail Mary, in play-calling and player selection.
Davis never shied away from trading for big-name players either. There was Jim Plunkett, Richard Seymour, and even legend Willie Brown was traded for. Then again, there was also Randy Moss and DeAngelo Hall to name two modern examples. To his credit, Davis never shied away from swinging for the fences. He took what he wanted, he was a fighter, and he was never content with average, or good.
Some final words on Al Davis and a potential trade for Deshaun Watson
In the conclusion to the NFL films' documentary, A Football Life: Al Davis, Steve Sabol asks the late owner exactly what he meant when he said that the greatness of the Raiders is in the future. Davis replied that future members of the Raiders organization "could use the past as a guide, and can live in the history and the tradition of the organization."
A trade for Watson would not only be in the best interests of the Raiders and the future of the franchise, but it would also be living within the history and tradition that Davis built. The perfect metaphor for the trade would be the vertical pass that Davis made the staple of the Raiders' offense during their golden years. It would be the 80-yard bomb for a touchdown.
The Raiders should drop back, heave the ball down the field, and pony up the requisite capital to land Watson. They should go deep, get one of the best quarterbacks in the game, and saddle up to take it to the Chiefs for the next twelve years. Their future depends on it.
You May Also Like: 3 Late-Round Wide Receivers Raiders Should Look Into
Be sure to give Daniel Carrigy a follow on Twitter, our guest author for this analysis.
*Top Photo: Associated Press/Noah K. Murray
Join The Ramble Email List